Yesterday saw the Podium fill up in Cape Town, South-Africa, first of all just after mid-night by the virtual Sailors on the
LiveSkipper
game, then later in the afternoon the Real VolvoOceanRace VO65 OneDesign boats.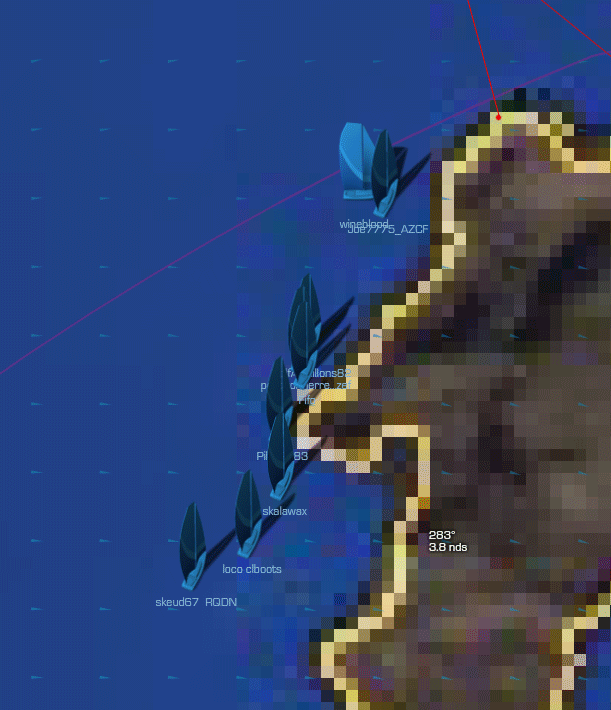 Liveskipper: The last moments for the Finish
This is a Great performance, if you consider that the LiveSkipper Boats are an older type Imoca60, with their Polars and both the LiveSkipper and VOR skippers and navigators using quiet similar wind conditions.
For the VOR skipper Ian Walker on Abu Dhabi boat, it must have been a nail biting last hours of sailing. Dongfeng was sailing close behind and at times had better speed and closing in. Especially when Ian as first got stuck in a windhole behind the table-mountain. But later Dongfeng felt the same problem of fading winds, luckily for AbuDhabi did Dongfeng sail almost the same route and did not try to circle the windholes.
Ian on Abu Dhabi got the Victory, and Dongfeng finished some 12 minutes later. Bauwe Bekking had lost considerable distance on these 2 and finished some 4 hours later.
The other 4 Boats are still sailing and are also feeling the calmer winds towards Cape Town.
A nice Leg 1 and next event will be the In-Port race in Cape Town on Saturday 15 November.
Finishing order and Sailing times Leg 1
1. Abu Dhabi - 25day 3hrs 10min 44sec
2. Dongfent - 25day 3hrs 22min 48sec
3. Brunel - 25day 07hrs 33min 25sec
4. Vestas Wind-
26day 00hrs 48min 47sec
5. Alvimedica -
26d 13h 07m 38s
6. SCA -
26d 23h 37m 49s
7. Maphre -
27d 00h 47m 32s